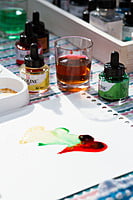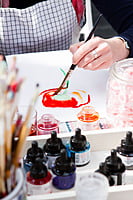 ROYAL TALENS ECOLINE LIQUID WATERCOLORS, 30ML PIPETTE POT SET, 5 PRIMARY COLORS
Non-returnable
•Ready to use liquid watercolor•For diverse creative applications both at home and at school.
•Eyedropper pipette attached to the lid•Good adhesion to water color and drawing paper and board•5X30 ml 205 Lemon yellow (Primary) -337 magenta - 578 sky blue (cyan) - 600 green - 700 black.
The colours of Talens Ecoline are astonishingly bright and brilliant. The bottle is fitted with a handy pipette for efficient dosing during mixing. Store the original works of art in a portfolio for optimal colour retention. Talens Ecoline Additional set 5 x 30 ml contains 5 bottles of 30 ml: 704 grey - 236 light orange - 311 vermilion - 507 ultramarine violet - 416 sepia.